If you are looking for a place where you can receive some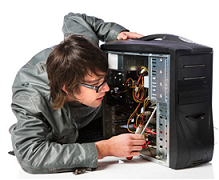 professional Repair services for your PC, then you need to
source and find a PC repair specialist..
A certified PC repair technician can provide help and assistance for any type of computer hardware problems. They can repair any problem afflicting your pc, whether its a software issue or a hardware failure.
Repairs are carried out both on computer systems as a whole or individual
parts  and/or components. And even peripherals such as printers, scanners,
web cams, digital equipment or any other items.
Your PC is not booting or is shutting down unexpectedly?
Noticed that your PC is running slow or not switching at all?
All this and much more can be easily and promptly solved by simply
contacting your repair specialist with the given details
and will have your computer up and running in no time.
PC upgrading is also one of our main services offered, we can start by
providing the parts needed for the upgrading in question to afterwards
install and configure. All this, based on a thorough analysis of the client's needs.
Assistance needed for any internet or network problem? Your PC repairs
team will definitely be able to solve your issue.
Any software difficulty or conflict can be solved by our group of proficient and experience technician together  with all the above mentioned problems and many more.
Thanks the Techstore Team