Intruder theft and criminal damage is a threat and cost
to Home owners and Business.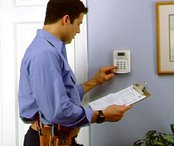 Electronic intruder detection systems can
provide cost-effective protection and act
as a deterrent to intruders while alerting staff and police.
We are specialists in the design and installation of all types
of Intruder Alarm Systems, from the small residential systems
to the larger commercial and industrial systems.
We Provide the following:
Intruder Detection
We stock the latest technolgy in Home Alarms both hardwired and wirless systems,
These systems have advanced movement detectors and they substantially
increase immunity to false alarms to ensure that you maintain Police response.
We also stock an extensive range of door, window and shutter contacts,
and alternative detectors including vibration, sound and break-glass
sensors for a system that will provide complete protection for your home.
We also provide:
Light Control
Our Light Control Systems automatically switch lights on when someone approaches a
protected area. A useful deterrent for unwanted visitors and a convenient one for welcome
ones. Units are weatherproof with long and short range sensors.
Panic Buttons
Personal attack systems incorporating panic buttons generate a rapid response in the event
of a personal attack, even in large buildings. Receivers are individually identified allowing fast
location of the incident.
Servicing & Maintenance
We employ a dedicated, highly qualified team of installation and service engineers who provide
nation-wide coverage for scheduled and emergency servicing and maintenance.
Thanks the Techstore Team