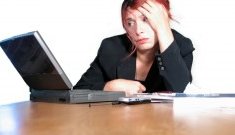 Computers have become a very important tool in Business today,
most businesses can't often support a full time member
of staff to assist them with their computer support
or general IT support.
It makes good sense, too.
Why pay a member of staff to sit around waiting for a problem?
When Problems do arise
Yet when a problem arises and systems fail it can be costly due to lost productivity and the general distractions caused by long delays in getting problems resolved.
Business Support Services
You will get the benefits of your own highly skilled IT support employee, without the commitment or high costs involved. They are ready to help you. allowing you to concentrate on what you do best, running your business.
Support Services can include:
Repair of hardware and software problems
Hardware and software upgrades
Installation and setup of new systems
Help on getting connected
Training for business users
Ethernet Network Design
Cable installation
Internet connectivity
Router configuration
Advice, design, and setup of wireless networks
Client computers and servers configuration
Security
Troubleshooting
Internet Services:
An Internet consultant or expert will help your business get more from the internet.
They will advise you how to
get a unique business Domain name,
Advice on Security best Practices,
Design and host a web site for your Business
Connect your computers to the internet via dial-up ,broadband and/or wireless technology
Set up and create e-mail addresses
Set up your own web and email servers
Teach your staff how to surf the Internet and use E-mail
Thanks the Techstore Team