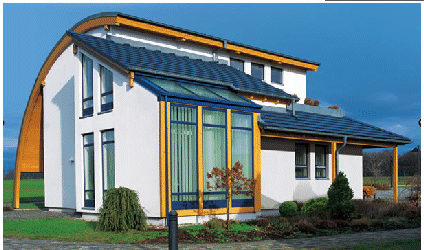 Energy Efficient Home
Building Regulations require that new buildings should have a minimum standard of energy efficiency but increasing that standard will contribute in energy and money savings. Houses being built today are expected to be occupied for well over 60 years and beyond.
Energy-saving measures can made during the life span of a home but it is more cost-effective to carry out these measures during construction, again saving money and energy. Apart from reducing all utility bills in the house, an Energy Efficient Home can Increase its value when deciding to sell the property.
Small changes you make to be more energy efficient in your home can have a very significant impact on improving the environment. The education of family members can help achieve this result.
Bay doors and large windows should be kept to a minimum, as increasing their size contributes to heat loss. They are also very difficult to insulate. Roofs should be pointed in a southerly direction to allow for solar cell installation and to gain maximum efficiency from the sun.
Maximum insulation within the house and including the inner cavities of walls greatly enhances the overall efficiency and comfort of a home. It is also advisable to insure your attic is properly insulated to prevent heat loss from the ceilings. If the house is facing to the south it is advisable to place the bigger windows there to capture the solar effect from the sun. Window area on the north side of the house should be kept to a minimum to limit heat loss.