If you have a website and feel it might need to be upgraded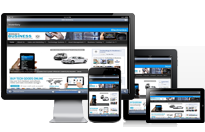 then here is a checklist for you to compare to establish
if you need to upgrade your website to a
new next Generation website.
Previous website upgrade Services
In the past a website upgrade would have meant a design
upgrade as most websites were static and only had
basic functionalities included.
But today's next generation of websites are mostly dynamic
and have lots of features and functions included.
Here is a basic checklist that indicate you might need a website Upgrade
Initial most important Indicators:
1. Your website is not aligned with your core business activities anymore.
2. You are experiencing a drop off in visitors and sales coming through your website.
3. Your customers cannot access your website using their new smartphones and tablets.
4: You have to Pay an external developer each time you need to update your website content.
5:. You cannot integrate your new important social media channels with your website.
6. Your website displays product lines that are sold out or out of date.
7. Your website does not comply with the latest standards in terms of usability and accessibility.
8. Visitors to your website cannot share your offers via their preferred social media channels.
9. Your website design looks dated compared to others in your industry.
10. Your competition has upgraded and their new website now has features yours doesn't.
If your website is experiencing any or all of these symptoms then you need to consider
upgrading to a Next Generation responsive website.
Specialists website Upgrade Service
New specialist upgrade service We offer you a
number of choices and provide a complete service that can help you upgrade your
website to the next generation of responsive websites.
See more details here: